Are you or a loved one struggling with addiction and looking for help? Inpatient rehabilitation is a popular treatment method for various addictions, including drug, alcohol, gambling, sex addiction and other behavioural addictions.
Our team offer the very best treatment to those who want a change and a life without addiction.
If you are looking for inpatient rehab programs, we have various alcohol and drug rehab clinics in the centre of the UK which is easily accessible from anywhere in the country.
For more information about the private inpatient rehabilitation centres available, please complete our enquiry form and speak to our professionals today.
Why Choose Us?
We are a team of experts in the addiction treatment industry and have helped a huge number of people from the UK and various other countries across the world.
Our team takes care to use harmless methods of treatment to ensure patients are treated correctly within all of our rehabilitation centres.
There is no wait on private rehabilitation, although there is a cost for private inpatient rehab, you can be sure you will get a bespoke treatment plan that meets your needs.
Our team works hard to help patients work through their addiction recovery and also provide relapse prevention methods.
With us by your side, you can really turn your life around. Speak to a treatment provider today for help and support, no matter what you are dealing with.
Accreditations
Our company was established in 2017, but we have over 25 years of experience in the therapeutic and clinical treatment of addictions, personal well-being and mental health conditions.
We are a team of experts within the industry and are regulated by the Care Quality Commission and take advice from The National Institute of Alcohol Abuse and Alcoholism (NIAAA). With plenty of experience and a group of understanding therapists and staff members, you can recover in a peaceful and supportive environment.
Cost of Inpatient Rehab
The average cost of inpatient rehab is £2,000 - £8,000 per week.
We have treatment centres in the middle of the UK that patients can travel to easily from Scotland, , Ireland and other areas. The cost of our inpatient rehabilitation varies depending on the clinic that you choose, the room and the length of your stay.
Our luxury rehab facility is a premium option which is the most expensive option but offers spa facilities, complimentary spa treatments, a dedicated gym, exercise classes and private executive suites.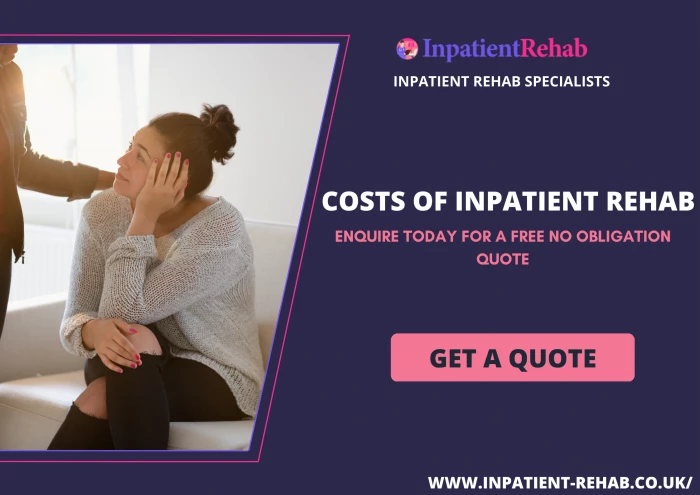 If you are looking for a cheaper alternative, we have 4 other clinics for you to choose from. Each of the clinics offers single and twin rooms depending on your requirements and budget.
The longer your stay, the cheaper the inpatient addiction treatment cost will be per week. However, we would look into each client's individual needs and requirements to recommend the most suited duration.
If you would like a quote for the inpatient rehabilitation services that we provide or more information on treatment costs, please complete our enquiry form and someone will be in contact with you as soon as possible.
Get a Price for your Rehab Stay
Benefits of Inpatient Rehab
The primary goal of inpatient rehabilitation is to help patients achieve and maintain sobriety. Although this can sometimes be achieved using other methods, there are various benefits of inpatient treatment.
Patients in rehab usually have a substance abuse disorder or addiction, inpatient options ensure 24-hour care and professional support constantly. We have listed the advantages of this type of treatment below.
Detoxification with Professional and Medical Support
When going through detoxification, patients will more than likely experience uncomfortable withdrawal symptoms. This can be extremely unpleasant for both patients and their family members.
Inpatient treatment provides detox with professional and medical support throughout the withdrawal process.
Our experts will ensure you cannot relapse during this time and will keep patients calm throughout.
We will also offer all the necessary support and therapy that is needed to help you recover.
Having medical professionals there to assist you throughout your stay can be extremely helpful. A lot of the time, family members of addicts are unsure of what to do and cannot help the individual get through the detox phase.
Our team members have over 25 years of experience and know exactly how to help all of our patients.
Higher Success Rates
There is no guarantee of success with any addiction therapy or rehab program. However, residential treatment programs tend to have much higher success rates when compared to outpatient treatment and other therapy options.
When patients are treated with outpatient treatment it is easy for them to fall back into old habits in moments of weakness. By starting a treatment program, patients will not be able to relapse.
Rehab can be a difficult but rewarding experience and it is highly recommended to think about this as a treatment option if you are really suffering from drug or alcohol addiction.
Structure
One of the most important things to help with addiction treatment is having a set structure in place. Our structured schedules help to prevent individuals from thinking about the substance they are addicted to, as they will be busy thinking about their new routine.
Our professionals help to implement routines into clients' everyday lives too. This will also help to prevent relapses in the future.
With holistic therapies like art and music therapy, meditation and yoga, clients can really relax and take their minds away from their alcohol or drug addictions.
We have clinics in the centre of the UK which can be accessed easily from the North, , the South and various other locations.
Community and Peer Support
Patients in rehab typically receive both group and individual therapy. Group counselling can be extremely beneficial to those with a drug or alcohol use disorder, as they will be able to speak to people who have similar addictions.
Our clients can support each other whilst our rehab treatment team can offer the care required to help prevent alcohol and drug cravings and help patients on their way to a normal life.
As a specialist addiction treatment provider, we also offer local support groups to family members at the early stages and later stages of the recovery process.
Individually Focused Treatment Program
The great thing about residential treatment facilities is how bespoke they are to each person suffering from addiction.
At our inpatient rehab facility, we offer individually focused addiction treatment programmes to ensure our clients get the therapy and care that is right for them.
We offer complete focus on each patient and their recovery, encouraging them to do the same. By separating yourself from the outside world, you can really focus on yourself.
By improving your mind, body and overall health through physical activity, therapy sessions and other treatments, you can really turn your life around and stabilise any mental health issues that are dragging you down.
Safer Environment with 24-Hour Care
Since you will get round-the-clock care at an inpatient alcohol rehab or inpatient drug rehab, you can rest assured you are in safe hands.
Residential rehab facilities have staff on hand 24 hours, 7 days a week. With a support system around you constantly, you will get back to daily life away from drugs and alcohol sooner than you think.
We offer professional help to clients in to increase the chances of long-term sobriety and prevent life-threatening habits.
Aftercare Services
After completing residential rehabilitation, clients may participate in aftercare treatments, such as a 12-step treatment programme or outpatient treatment.
Whether you came into rehab for drug addiction treatment or alcohol treatment, outpatient programs are available once you leave the facility.
These free aftercare treatment options are a great way to prevent relapses and help clients stay sober after the recovery process.
Different Types of Addiction Treatment
There is no one-size-fits-all when it comes to addiction treatment. The treatment recommendations will vary from client to client.
Professionals within inpatient rehabs will assess each client carefully to see what different types of addiction treatment will be best for the individual.
Clients will often take part in a few different types of treatments, for example, they may start with inpatient care and go on to have outpatient care as well as group therapies.
We offer inpatient and outpatient treatment services to ensure each client gets the help they need.
Residential Rehab
As mentioned earlier on this page, residential treatment is one of the most successful methods to treat a drug or alcohol use disorder.
We have 5 clinics in the UK, all easy to get to from up North, and down South. If you are looking to receive treatment through residential rehab, we can help you.
Inpatient drug and alcohol rehab are great options for those suffering from substance use disorders, as they will receive constant care throughout their stay.
Clients will also learn how to deal with any future cravings and receive tips on how to stay sober.
12-Step Addiction Program
We offer a 12-step addiction program to our clients to help them achieve a substance-free lifestyle.
The 12 steps encourage individuals to create a new way of life which is practised throughout the rehab programme.
The principles are put into place to remove the urges to use drugs or turn to alcoholic drinks.
Our team can offer help to anyone looking for a life free from addiction. Sessions are available weekly for those who have completed residential treatment.
Individuals will learn new techniques to apply to their lives and receive support, motivation and professional treatment advice from expert addiction therapists.
Addiction Counselling
Addiction counselling is often used in an outpatient setting but can be used in residential rehab too.
Addiction counselling can include cognitive behavioural therapy (CBT), dialectical behaviour therapy (DBT), 1-1 sessions with professional therapists and more.
By taking part in one-on-one therapy, individuals will be able to identify various factors that could lead them to use alcohol or drugs.
The therapy help people remain clean and sober, as they act as an incentive.
Addiction counsellors will also be able to identify triggers and can teach clients to do this too.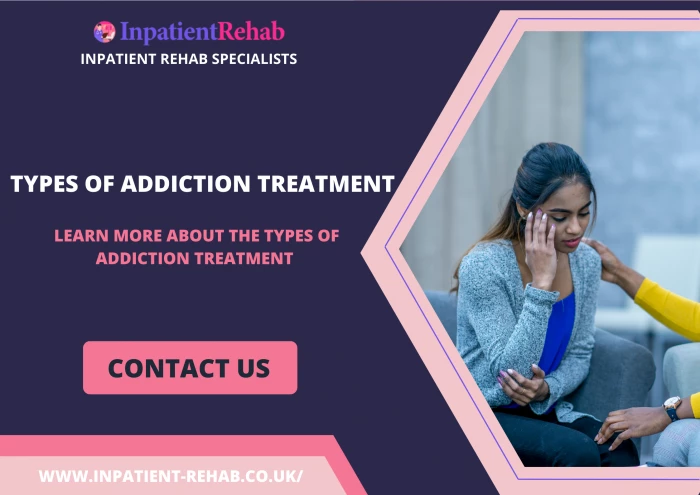 Medication for Addiction
Some healthcare advisors may recommend medication for addiction as well as individual therapy.
Medications for addictions include:
Antidepressants
Antidepressants are sometimes given to people who are recovering from drug addiction.
Addicts often cannot produce a natural amount of happiness-inducing chemicals in the brain, as they have been relying on drugs for this.
An alcohol detox or drug detox can sometimes cause depression in these people.
Medical professionals can prescribe Zoloft and Prozac to help stop depression until the chemical imbalance is sorted.
Benzodiazepines
Addicts who are addicted to drugs like Cocaine and Heroin, as well as alcohol, may suffer from extreme anxiety as part of severe withdrawal symptoms.
Benzodiazepine offers a sedative effect which can ease anxious feelings. Since Benzos are addictive, doctors have to assess patient care and are cautious about prescribing such medicine.
Clonidine
When detoxing from alcohol and Opiates some individuals may be at risk of seizures.
Clonidine can be prescribed to stop any seizures and tremors and can also reduce other side effects like sweats, cramps anxiety and aching muscles.
Group Sessions
There are various group therapy sessions available for those suffering from addictions. During your recovery journey, you may find comfort in therapy offered in group settings.
You may have heard from Alcoholics Anonymous, Narcotics Anonymous and Drug Addicts Anonymous; these are just a handful of the addiction support groups available to those in recovery.
Many recovering addicts choose to go to these sessions to enforce long-term sobriety.
Family Support
Our addiction specialist team also offer a family intervention service which takes place outside of a hospital setting, so each member can feel comfortable.
There are many ways family intervention can help. Close friends and family can use this to help a loved one with an alcohol or drug addiction.
Family support programs often help addicts see the impact their destructive behaviour has on the people they love and they can begin to repair relationships.
We can offer goals and guidelines to clients and their families and close friends to ensure they get the very best help from all those around them.
What is Inpatient Rehab?
Inpatient rehabilitation is a type of treatment process that involves going to a rehabilitation centre and staying there for a few days, weeks or months.
Individuals are checked into a controlled environment with a number of experienced therapists and doctors on hand.
Rehab treatment is usually given to people who are really suffering from their addictions and are worried about their physical and mental health due to alcohol addiction or drug abuse.
Inpatient alcohol rehab, drug addiction treatment, sex addiction treatment, and gambling rehab may be treated using this method.
Inpatient vs. outpatient Rehab
When thinking about rehabilitation for addictions and mental health disorders, there are two options available: inpatient and outpatient treatment.
Inpatient drug and inpatient alcohol rehabilitation refer to the client staying inside the centre, whereas outpatient rehab means that the client simply visits the centre for their treatment sessions.
We offer inpatient alcohol rehab and drug abuse care for those with severe addictions. Outpatient drug rehab usually occurs after residential rehab, however, can be offered to those with slightly milder addictions.
If a patient is at risk of harming themselves or others, outpatient drug rehab may not be recommended. For this type of drug abuse, we would strongly advise residential treatment for long-term recovery.
Our experts can look at the type of addiction and the severity of this addiction to decide on the best recovery process for each client. We offer a research-based guide to help throughout the recovery duration.
FAQs
What is the Average Length of Stay in Inpatient Rehabilitation?
The average length of stay in inpatient rehabilitation is 30-90 days.
This can be longer or shorter depending on the individual.
What's the Shortest Time You Can Go To Rehab?
The shortest time a patient can stay in rehab is 1 week.
Despite this being the shortest option available, The National Institute on Alcohol Abuse and Alcoholism would highly advise speaking to a professional to get their advice on the duration of your treatment.
We would usually recommend a minimum stay of 30 days to get the best recovery, however, this will vary from patient to patient.
How Do You Know If I Need Inpatient Treatment for Substance Abuse?
If you are experiencing signs and symptoms of addiction, such as the ones below, you may require inpatient treatment.
Intrusive thoughts about drugs, alcohol, sex, gambling, etc.

Feeling like you cannot control the urges for a specific substance or behaviour

Anxious and easily irritated

Stealing from family and friends to fund addiction
What Addictions Can You Get Inpatient Treatment For?
You can get inpatient treatments for the following addictions:
Drugs

Painkillers

Alcohol

Gambling

Sex

Porn

Love
Our clinics can be accessed anywhere in the UK, including Ireland, , Scotland and Wales and we can help treat any addiction.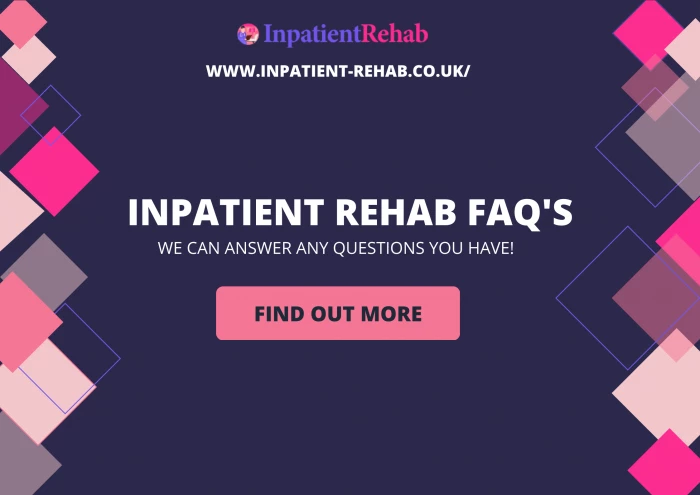 What is the Difference Between Addiction Rehab and Therapy?
Addiction rehab refers to a treatment facility where people can stay or visit to overcome their addictions.
Therapy is the process of speaking to a professional regarding your addiction and creating a plan of action to stop addiction.
What Questions Should I Ask Before Going into Rehab?
Before going to rehab, you may want to speak to the centre and ask about the following things:
How will you get to the treatment facility?

How long will your rehab treatment last?

Are medically assisted detox services available?

What facilities are available at the centre?

How much will the addiction treatment cost?

Can you use private health insurance?
Our treatment providers can assist with all of the questions above, so please make sure to contact us for more information now.
Is Residential the Same as Inpatient?
Residential and inpatient options are extremely similar but not exactly the same.
Inpatient care offers constant monitoring 24 hours a day, 7 days a week. Residential care also offers monitoring, however, this is slightly more relaxed.
Inpatient care usually lasts longer than residential care, as it is usually for clients that have more severe addictions.
Does Inpatient Rehab Work?
If followed correctly inpatient addiction rehab can work and has done for thousands of people across the UK.
There is an 85-95% success rate when adequate inpatient care is carried out. Clients will need to complete the entire program and take part in all aftercare therapy that is recommended to them in order to have the best success.
Who Qualifies for Inpatient Rehabilitation?
Anyone suffering from addiction qualifies for inpatient rehabilitation.
Our team can offer help and support to anyone who is looking to beat their addiction.
With 5-star reviews and over 25 years of experience, we can help you turn your life around.
If you have any further queries, such as what to pack for residential rehab or something else completely, please contact our team directly.
Summary
If you or a loved one is seriously struggling with addiction and you are looking for professional help and support, please get in touch with one of our professionals today.
We can provide you with expert knowledge on how to fight the urge to drink or take drugs and offer coping mechanisms to support you in your life.
Our inpatient addiction treatment programs are the best in the UK and are available to you. For more information, please speak with us and we can draw up the best treatment plan for you.
Searches Associated With Inpatient Rehab
Inpatient Treatment Center

Voted Best Inpatient Treatment Rehab in December 2023

Outpatient Treatment Center

Best Inpatient Detox Private Rehab Centres

Inpatient Rehab Centers near me

Best Addiction Specialists near me

Online Therapy Rehab for Addiction
Head Office Contact Details
Inpatient Rehab
3 The Quadrant, Coventry CV1 2DY
024 7507 0237
Inpatient Rehab | UK Drug & Alcohol Addiction Centre